What is Full-Duplex Communication?
We define Full-Duplex Communication as communication occurring in both directions, simultaneously.
Some Communications Literature will use the abbreviation FDX to denote Full-Duplex Communication.
A couple of examples of Full-Duplex Communications would be Cellular Phones and much of modern internet-based communication services (e.g., Video Communication via Skype, Face-Time, etc.).
In all of these technologies, we have bandwidth (or a communications channel) available in both directions.
Unlike for Half-Duplex Communication, there is no means (or need) to control access to a single communications channel.
Each direction has their own communications channel and can communicate freely, at will, or whenever data is available.
An Analogy for Full-Duplex Communications
We can think of Full-Duplex Communications as being just like a two-way street, on the roadways.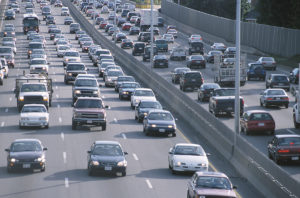 Most modern forms of communication that we use today (e.g., cell phones or tablets engaging in video conferencing, or just communicating with websites – for gaming, social media, etc.) all use Full-Duplex Communications.
In the old-days, Ethernet started out using Half-Duplex communications (for 10BASE-T, etc.) However, once Ethernet moved on to faster speeds and started to use switching technology, then it started supporting Full-Duplex communications as well.
Other forms of Communication types include:
Stuck at Home? You Can Be an Expert on OTN Before You Return to the Office!! Click on the Banner Below to Learn More!!
Discounts Available for a Short Time!!