What does the expression 100GBASE-R Mean?
For Ethernet applications, the IEEE 802.3 standard states that the term "100GBASE-R" represents a group (or family) of Physical Layer (e.g., 100Gbps Transceiver) devices that do the following:
When it transmits its data towards the PMD (Physical Medium Dependent) device.  

It Divides (or de-multiplexes) its outbound traffic into many lanes (usually 4 or 10 physical lanes) and
It encodes this data into the 64B/66B PCS (Physical Coding Sublayer) code, as it performs this de-multiplexing operation
When it receives data (from the PMD)

It decodes this data from the 64B/66B PCS code, as it receives data from the PMD, over many lanes of traffic
Combines (or multiplexes) this multi-lane traffic into a single stream of traffic as it routes this data towards the MAC (Media Access Control) device.
In summary, these 100Gbps Ethernet devices will encode its "outgoing" data into the 64B/66B PCS code before transmitting it over some media.  These 100Gbps Ethernet devices will also decode its "incoming" data from the 64B/66B PCS code (to restore the data to its original content) as it receives this data.
Stated differently, the 100Gbps Ethernet system will encode this data into the 64B/66B PCS format solely to transport this data across the communication media.  Once this Ethernet data has arrived (at the other end of the media), the Ethernet system will decode this data (from the 64B/66B PCS format) to restore this data to its original content.
The bit-rate of this 64B/66B PCS encoded 100Gbps Ethernet data stream is 103.125Gbps ‡ 100pm.
IEEE 802.3 also states that the Physical Layer (Transceiver devices) supporting the following standards, must support the 100GBASE-R PCS encoding/decoding scheme.
100GBASE-CR4
100GBASE-CR10
100GBASE-SR4
100GBASE-SR10
100GBASE-KP4
100GBASE-KR4
100GBASE-LR4
100GBASE-ER4
Please check out the post on 64B/66B encoding to learn more about that encoding scheme.
Where is this PCS Encoder/Decoder Located?
IEEE 802.3 states that the 100GBASE-R PCS block (e.g., the entity that performs the PCS Encoding/Decoding) resides between the "Reconciliation Layer" and the "PMA" (Physical Medium Attachment), as shown in Figure 1 below.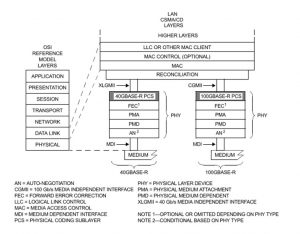 Figure 1, Architectural Positioning of 100Gigabit Ethernet (from the IEEE 802.3 Standard)
But, in a real system, this PCS Encoder/Decoder often resides in the same IC that also contains the MAC (Media Access Controller).  Figure 2 presents an illustration of a MAC that contains the PCS Encoder and Decoder functions.
Figure 2, Illustration of a Connection between the MAC and a 100Gbps Transceiver IC.